Cenote Encantado is quite known cenote within Tulum. Due to its location that is not on the Tulum-Coba road, which is quite farther from the town itself. This is also a good thing. You can find yourself as one of the only people here. This is a rather large and deep cenote where you can relax, snorkel, kayak, and swim.
For more cenotes, check out our comprehensive guide to 62 of the best Cenotes in Mexico. There you will see the most popular cenotes you can visit in the Yukatan, as well as a lot of lesser known yet still incredible ones.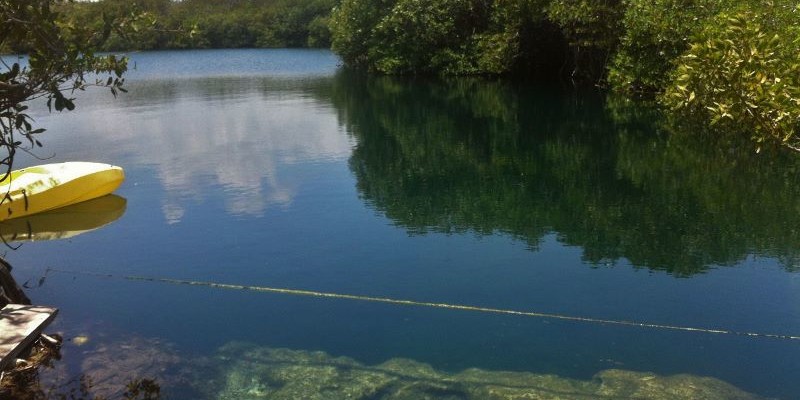 How to get to Encantado
Cenote Encantado Information
Opening hours: 8:00AM – 5:00PM daily.
Entrance fee: If you would like to stay at one cabins or are camping the entrance is free. There are not posted prices, which means this might change. It is usually 50 pesos per person and 50 pesos to rent a kayak.
Good for Scuba diving: Yes, very good.
Good for swimming: Yes
Facilities: Yes
Car parking: Yes
Exactly what is a cenote?
A cenote is formed, usually from limestone, when caves or channels are carved through the rock, forming underground rivers. As rain water seeps into the layers of sandstone, it slowely erodes channels toward the ocean. Eventually they grow bigger and bigger, and in some spots giant caves are formed, along with stalagmites.
In the Mexico, cenotes are only found in the Yukatan, and it is believed that is because a meteorite hit there millions of years ago, and created a thick layer of sandstone there. Since then water has been creating the underground rivers, caves, caverns and cenotes we see today.
After the ice age, these caves and channels that were mostly dry, filled with water, which is why we have vast cave systems through the Yukatan, and in spots deep underwater you can still find skeletons of long dead land animals. Such as the extinct North American camel and giant ground sloth.
Cenotes range from between 66 million years and 13 thousand years old. The actual cenote is formed when the roof of a cave or wide underground river caves in, exposing it to the sun, and letting us in. As you can see from the photo above, the whole system isn't called a cenote, just the opening area from the collapsed ceiling.
So all "cenotes" you visit might be cenotes, but when you dive deep into them, you are diving into caverns and cave systems, not only the cenote itself. And for most, this is a memory of a lifetime.
Also read: